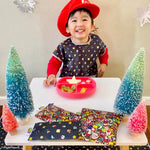 It's that time of year again. You're trying to come up with unique gifts for gamers in your life. If they have the games they love, what else could they want? We've got a few ideas, and many of them start with a brave little hero...
Thirty-five years ago, a hard-working 8-bit hero set out to save a princess. Since then, millions of people worldwide have continued to participate in his journey, watch him and his world evolve, and have grown to love his circle of friends and foes. 
To celebrate the launch of our newest Super Mario™ collection, we've put together a gift guide to help you find something for the gamer on your list.
Check out our ideas for gamer caregivers, friends, and littles. And read to the end for other cool gift ideas inspired by the world of Super Mario! 
For That Gamer Dad or Mom New to Feeding
Whether they choose to start with solids or purees, new parents and caregivers will need a solid set of bibs for the feeding phase. We recommend a set of our award-winning SuperBibs® made with our signature waterproof fabric. 
For this gamer, we'd go with a set of three bibs in our newest Super Mario™ prints. They'll appreciate you for the personal touch in the gaming department and for a high-quality adjustable bib they can use for ages 6 to 24 months! 
For That Growing Little Gamer 
Know someone with little gamers 1-3 yrs who've progressed to self-feeding? Our short-sleeved Junior Bibs are just the ticket! 
With no cotton layer, stains and smells don't stick, and these are wipeable and machine washable for easy cleaning — so, you're making someone's life a whole lot simpler!
For That Crafty (or really messy) Gamer In Your Life
Know a little one (or parents with one) who has some trouble keeping food on his plate or paint on the page? Then we've found your gifts. 
Measuring about 3.5 x 3.5 feet, our Splat Mats offer great floor coverage under high chairs and are the go-to for any activities involving glitter, glue, paint, or other substances you'd prefer not to land on your floors or tables. Better yet? These Splat Mats are waterproof, easy to wipe, and can even be thrown in the wash after use. Grown-ups can put these to good use with their craft projects as well! 
For this gamer, we are loving our new Super Mario™ Lineup Splat Mat featuring all the in-game greats.
Unfortunately, the Splat Mats won't keep your expertly chosen outfits clean, but our Sleeved Bibs will! Also made with our award-winning waterproof fabric, these full-coverage bibs are resistant to odors and stains, so they hold up over time and washes! Give someone the bonus gift of less laundry. 
That Little Snacker Or Eco-Gamer With An "Everything" Drawer
You know the drawer we're talking about—the one with random batteries, cords, last year's calendar, and mystery lint. Help your friends and family get organized and snack smarter and more sustainably with our food-safe reusable snack and storage bags. A smooth zipper closure locks in crumbs and single-ply construction means no worrying about icky stuff growing between fabric layers—a gift that's fun, practical, and sustainable! An idea both the earth and your loved ones will thank you for!
Great For: 
packing lunches, prepping snacks (for the toddler who is always hungry)

organizing small toy parts (especially great for organizing parts for all those models that littles love to build) 

phone or computer cords  

trail mix for camping or hiking 

makeup, cosmetics, and jewelry 
We have to plug the new Super Mario™ Mashup set again for this gamer because it's too cool not to. This set of three comes with one large and two small Snack Bags featuring both of our new prints!
The Gamer That Gets Stuck At TSA For Over-sized Liquids or Taking Too Long to Find Their ID 
The better alternative to single-use quart bags, our TSA-compliant Clear Front Travel Bags make a fantastic gift for someone you know who is always on the go. Clear on one side for TSA checks, so they're not digging around in a bag for things they need.
And the back is lined with our signature waterproof fabric to protect against leakage and show off their awesome gamer gear. In this case, it's Super Mario and some of his most famous friends. 
Great For:
toiletries

easy access to passports and IDs while traveling

small electronics 

makeup 

jewelry 

craft supplies (clear front means no more digging around in the dark for the color they want)
We have the latest Super Mario™ Mashup set for this gamer. 
Those Gamers Who Spend A lot of Time Traveling with Dirty Diapers or Gym Clothes 
Ever felt triumphant after a solid day at the gym until you start to smell your sweaty clothes from your bag on the way home? Cue the Wet Bag. Commonly used to conceal the more pungent smell of dirty diapers, these waterproof bags double as the perfect on-the-go storage option for dirty laundry, swimsuits, or musty socks you don't want to mix with clean clothes in your luggage. And they even have a nifty hook you can latch onto strollers, gym lockers, or towel rods. 
Great for:
dirty diapers

Soiled or wet clothes on-the-go (for that shirt covered in applesauce while eating in the car or tomato sauce while dining out)

pump parts (a great gift for new moms!)

use as a backup packing cube for dirty clothes 
For this gamer, we have the new Super Mario™ Lineup .
Unique Stocking Stuffers for Video Gamers 
Your giftees may or may not have experienced it yet, but… the teeth are coming. Make a painful experience more fun (and soothing) with a unique silicone teether. Plus, they are designed with textured buttons for achy gums and made with CPSIA-tested, 100% platinum silicone, so you're gifting super-safe teethers. You know your gamer loved one will think these are as cool as we do. 
For this gamer: Nostalgic '80s parents will appreciate the NES™ Controller or Game Boy™  teethers.
Other Super Mario
™
Inspired Gifts We Think Are Cool 
This Cute Personalized Ornament
Personalize a Super Mario ornament for the little Mario lover in your life at Hallmark online: 
Light The Night With This Fun ? Block Lamp 
We think this quirky ? Block lamp with a cute Mario pull chain is a great gift idea for gamers of all ages. 
This Cool Idea to Level-Up Drinks with Nintendo® Super Mario Bros.™ Ice Cubes
Add Mario, Luigi, Coins, and ? Blocks to drinks with this reusable silicone ice cube tray. 
This Creative Build a Scene Room Decor
You and your little one can bring the world of Super Mario home with these fun Super Mario peel and stick wall decals.
Still haven't found what you're looking for? Check over here.