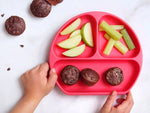 Joy of @Lunchesandlittles is here with another soon-to-be family favorite! Treat yourself, *cough* your littles 😉, to a batch of these mouthwatering banana chip yogurt muffins! 
Let us know how they came out and share your successful substitutions with other at-home chefs in the comments!
WHAT YOU NEED
🍌2 Ripe bananas
🥄1/2 Cup vanilla Greek yogurt
🥄 2 Tbsp honey
🥄1 Tsp pure vanilla extract
🥚1 Large egg
🥄3/4 Cup whole wheat flour
🥄2 Tbsp cocoa powder
🥄1 Tsp baking soda
🍪1 Handful of mini chocolate chips
HOW YOU MAKE THEM
Preheat the oven to 350 degrees and spray the wells of your mini muffin tin with non-stick cooking spray. Set aside.
In a large mixing bowl, mash bananas together with a fork. You want to get the bananas as pureed as possible. Try to get most of it smoothed out, but don't worry if you still have some lumps. 
Next, add in yogurt, honey, vanilla, and egg. Again, mix to combine.
Then, add in the remaining ingredients (minus the chocolate chips): flour, cocoa powder, and baking soda.
Mix until batter is smooth, scraping down the sides of the bowl as you go.
Scoop batter into the prepared wells of the muffin tin, filling each approx. 3/4 of the way full. Repeat until all wells are filled (you will have extra batter).
Top each well of batter with a couple of chocolate chips.
Bake at 350 degrees for 10 to 13 minutes, depending on the oven.
Remove from the oven, allow them to slightly cool, and enjoy!
Pro Tip: Recipe makes approximately 36 mini muffins, but you can easily cut that in half for full size muffins.