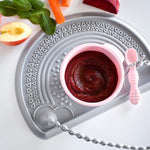 Recipe By: @athomewithastghik
Here is a delicious and nutritious puree recipe that you can make for your little ones to enjoy.
Serving: about 2 cups 
📝 Note: the carrots and beets have been shredded to help speed up the cooking time and to help ensure it blends well in the blender.  
📝Note: the beets may cause your little one's urine or stool to be pink or red in color.
Ingredients:
2 cups small diced apples, I used organic Gala Apples (washed, skin peeled off, ends cut off, and core removed)

1 cup shredded carrots, (washed, skin peeled off, and ends cut off)

1/2 cup shredded beets, (washed, skin peeled off, and ends cut off)

1 cup spinach, washed well and patted dry
Method:
Scrub clean the apples, carrots, and beets. Peel their skins off, cut off their ends, and core the apple.

Next, cut the apple into small pieces.

Additionally, shred the carrots and beets. Finally, wash the spinach well and pat it dry.

Transfer the apple to a steam basket first, then the shredded carrots and beets.

Place the basket over a pot of water and cover it with its lid. Bring the water to a boil.

Steam the ingredients until the apples are fork-tender, about 15 minutes.

Add the spinach and steam for 5 more minutes or until the spinach is soft and has wilted.

Allow the ingredients to cool, and transfer them to a blender. 

Blend until all ingredients have pureed, making sure there aren't any pieces or chunks left behind.