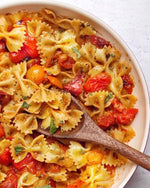 Our friends at @lunchesandlittles bring us back to basics with a delicious homemade pasta sauce with fresh tomatoes. Introduce your toddler's taste buds to the power of fresh herbs and ingredients with this essential pasta recipe.
WHAT YOU NEED
🍝3 Cups halved cherry tomatoes (we used a mix for more color)
🍝3 Cloves of garlic (minced)
🍝a Drizzle of olive oil
🍝1 Tbsp balsamic vinegar
🍝1/2 Tsp dried basil
🍝1/4 Tsp dried oregano
🍝1/4 Tsp dried parsley
🍝12 Ounces pasta of choice (more/less as desired; we used Farfalle)
🍝 Salt and pepper to taste
🍝1 Tbsp sugar (optional)
🍝 Fresh chopped basil and Parmesan cheese to garnish (optional) 
 Cute silicone grip dish pictured
HOW YOU MAKE IT
🍅Preheat the oven to 415 degrees and line a baking sheet with foil or parchment paper. Set aside.
🍅In a medium-sized mixing bowl combine the following: tomatoes, garlic, olive oil, dried spices and sugar (please note: sugar in this recipe is optional and can be omitted). Carefully toss until everything is well coated.
🍅Transfer coated tomatoes onto a prepared baking sheet and bake for 15 to 20 minutes or until softened and bubbly.
Pro Tip: For added flavor, place the tomatoes under the broiler for a minute or so once done —  we love ours a bit charred, so we always do this, but it is a personal preference.
🍅While tomatoes are roasting, cook your pasta al dente. Once done, drain and return the pasta to pot, or transfer to a skillet/shallow pan (as shown). We do this so that we are better able to mix everything together once we add in the tomatoes (see below).
🍅Once tomatoes are done, remove from the oven and transfer to a pot or skillet. Be sure to transfer the tomatoes and any and all pan juices. Yummm!
🍅Carefully mix pasta and your fresh tomato sauce together until pasta is well coated and combined. If needed/desired: add a bit more olive oil and again, mix it up.
🍅Serve immediately. Season with salt and pepper and top with fresh chopped basil and grated Parmesan cheese.
Get more great recipes from our community of foodie moms and nutrition experts here.