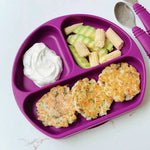 Cauliflower Fritters Recipe By: @my.little.food.critic
These cauliflower fritters make a delicious lunch or snack. Cauliflower, parmesan, and fresh herbs are mixed and pan-fried golden brown, oozing flavour!
Serves: 8 -10 fritters
Prep time: 5 mins
Cook: 20 mins
Ingredients:
1 small head of cauliflower  — chopped into small florets (about 300g) 




½ tsp pepper

1 tsp minced garlic

Zest of 1 lemon

A handful of chopped parsley 

½ oregano




1/3 cup spelt flour

½ cup parmesan cheese




1 egg or 1 chia egg




2 tbsp olive oil
How to Make Cauliflower Fritters:
Steam or boil the cauliflower florets for 5 minutes and then drain.

Use a fork or a potato mash to break up the flowers and mash them down. 

Add the pepper, lemon zest, garlic, parsley, oregano, flour, Parmesan cheese, and egg or chia egg. Stir well to combine. 

Heat the oil in a pan over medium heat. When hot, using a tablespoon or an ice cream scoop, scoop out the batter and place it on the baking tray. Then, using the back of the spoon, flatten to form a fritter.

Cook each side of the fritter for about 3-4 minutes, until golden brown. Repeat with the remaining batter. 
These can be stored in the fridge for two days or frozen for up to 3 months!