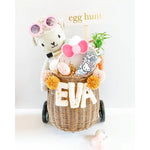 We get it. There isn't anything normal about parenting during a pandemic. The Easter Bunny *wink* is also working to flatten the curve and he or she may have some trouble accessing dyes, Peeps and other festive treats this year. Egg hunts might be cancelled but moms across the internet answered the DIY call with tons of great sensory activities, craft ideas, and non-traditional baskets for kids celebrating an unprecedented holiday.
Easy Eco-friendly Easter Baskets
This year, parents are trading in disposable Easter baskets for multi-use models and swapping traditional sweets and stuffers for earth-friendly gifts and gadgets. We were impressed with the creativity and the ways moms incorporated our products in their basket designs. We know you've got your baskets all sorted out *wink* but thought we'd share a few ideas just in case you need some inspiration. Here are some of our favorites: 
Alejandra Cobos of @eva_cobos says,
"This year, I decided to go for a non-traditional themed Easter basket for Eva. I tried to think of things that she will still use for months to come and stay away from all the bunnies and Easter pictured clothes and stuffers. I still wanted to showcase soft colors and the sweetness that Easter inspires, so I decided to add some Hello Kitty cuteness to our basket with Bumkins new collection. We have been using their products since Eva was born and are completely in love with the quality. 
Our little girl is all about hand sanitizer these days, so I went ahead and added my favorite pocket-sized hand sanitizer from Tubby and Todd. Last but not least, I included a cuddle and kind doll. These dolls are my daughter's favorite, and we love and support their mission of helping feed children in need."
 Mallory Firfire of @mommy_on_fire says,
"This is Lola's first Easter and I was on the struggle bus with what to do for her basket. Add in the global pandemic crisis and now I was really unsure of what to do! If you're in the same boat, check out the new blog post for some ideas."
@pienthesky says
"I love to mix in practical items like socks, bibs, and hand sanitizer (👏🏼) with developmental items like stacking cups, play doh, and books!"
Crafty Cardboard Costumes
Laura Brand might not share her husband's name recognition but she is equally at the top of her craft. She's the awesome idea-generator and creator of a unique sensory play platform, @thejoyjournal. This is where you can find the cutest bunny costume idea to engage little senses and imaginations this holiday weekend.
For this botanical creation you will need:
🐰Cardboard
🐰String
🐰Glue
🐰Brown paper or newspaper
🐰Scissors
🐰Pencil
🐰Decorating bits/crayons/paints
Check her IG for "How to" Tips
Eco-Friendly Bunny Bait Station 
One of our favorite parts of developing and designing products is seeing all the cool and useful ways they are put to use. We were especially impressed by Ergobaby's use of our reusable snack bags in place of single-use plastics for a trail mix station at a sustainability-themed event! An awesome concept that can easily be modified and themed for the occasion for green families  with kids who like to leave a little "bunny bait" for the season's busiest rabbit. 
A "Cool" Sensory Play Science Experiment
Angela, sensory savvy mom of @runlikekale, created an awesome spring-colored science experiment for kids of all ages.
"I have yet to find a kiddo who doesn't think this is cool. I've done it with my own child when he was 17 months and would do this in my classroom when I taught first grade, each of them were just as excited. It is fun for a wide range of ages.
Use this as an opportunity to open up conversation with your children and prompt them with critical thinking questions."
Ideas of what to ask:
Before
What do you think will happen when we squirt the vinegar into the baking soda water?

What do you think will happen when the colors mix? Will they stay the same or change?

What do you think the soap will do?
After
Can you describe what happened?

What do you see?

What do you smell?

Are the colors mixing?

What new colors are they making?

What does it feel like?

What happens when we squirt the vinegar harder vs. softer?
What you need for this sensory play experiment:
Baking soda

Vinegar

Water

Food Coloring

Squirt Bottle (or an empty water bottle with a hole poked into the top)

Soap

Clear cups
How to do this sensory play experiment?
In each cup mix together : 2 tbs baking soda, about 2/3 cup water (eyeball it so it fills up most of the cup), a few drops of food coloring, a healthy squirt of dish soap (about 1 tsp)

Fill the squirt bottle with vinegar and a drop or two of food coloring.

Set the cups up in a tub or on the splat mat and let your child squirt into the cups.

Use the questions above to facilitate conversations.
Printable Spring Coloring Pages
With all the uncertainty, we wanted to support our Bumkins family by offering a holiday activity that requires minimal setup or supplies. Please print and enjoy these original coloring pages our team designed as a thank you for your continued support!