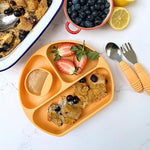 Do you have limited time to prepare a delicious brunch for your family or friends? Get your loved ones talking with this easy Lemon and Blueberry French Toast Casserole. It's bursting with flavor and can be prepped ahead in minutes or even overnight (Both options below). So good, your loved ones will think you spent hours in the kitchen!
Recipe By: @my.little.food.critic
This delicious make-ahead brunch idea is perfect for Easter! Packed with flavor and takes just a few minutes to prep!
Prep time: 5 mins
Cook time: 25/30 mins
Serves: Family
Ingredients:
5 cups bread (cubed). Stale bread works best for this recipe

1 cup blueberries

1 cup milk of choice

4 eggs

2 tbsp maple syrup (can be omitted for babies under 12 months)

Zest of 1 lemon

Juice of ½ lemon

2 tsp vanilla

1 tsp cinnamon
Steps:
Preheat oven to 350F/180C.

Add a layer of cubed bread to a greased baking dish. 

Sprinkle over half of the blueberries. 

Add a second layer of bread and then sprinkle over the remaining blueberries. 

In a bowl, whisk together the eggs, milk, cinnamon, vanilla, lemon zest, lemon juice, and maple syrup (if using).

Pour the egg mixture over the diced bread and blueberries. Ensure the bread is well covered.

Bake for 30 minutes, until golden.

Serve and enjoy!
Leftovers can be stored in an airtight container for 3 days. Warm in the oven for 10 minutes.
Prep-Ahead Option:
Lightly coat a 9×13 baking dish with nonstick spray. 

Place a layer of bread cubes evenly into the baking dish. Top with blueberries in an even layer, repeating 2 more times and ending with a layer of bread.

Whisk together milk, eggs, maple syrup, lemon zest, vanilla, cinnamon, and nutmeg in a large glass measuring cup or another bowl. 

Pour the mixture evenly over the bread cubes. Cover and place in the refrigerator for at least 2 hours or overnight.

Preheat oven to 350 degrees F.

Place into oven and bake for 35-45 minutes or until golden brown.