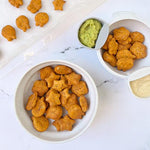 These pizza crackers are crunchy, flavorful, and taste amazing! They make a great snack and are portable!
Prep time:

15 mins

Cook time:

20 mins

Serves: 30 - 40 crackers 
Ingredients:
1 cup spelt flour 

1/2 tsp baking powder

1 tbsp chia seeds

1 tbsp oregano or use mixed Italian herbs

3 tbsp cheese (cheddar or Parmesan) or substitute 1 tbsp nutritional yeast for dairy-free/vegan alternative 

1 tbsp olive oil

1 tbsp tomato purée

1/3 cup water + 2 tbsp
Method:
1. Preheat oven to 200c/400f and line a baking tray with parchment paper. 
2. Add the flour, baking powder, chia seeds, oregano, and cheese to a bowl and mix. 
3. Add the water, olive oil, and tomato purée. Stir until a dough forms. 

Note: If it is a bit dry, add in the remaining 2 tbsp water. 
4. Roll out the dough between 2 sheets of parchment paper to about 3mm (almost 1/8 inch) in thickness. 
5. Then either use mini cookie cutters to cut out shapes or a pizza cutter to cut into squares. 
6. Place onto the prepared baking tray and bake for 20 minutes until golden brown. 
Allow to cool completely before serving. These are delicious served with a dip such as hummus or guacamole.
Store in an airtight container for 3 days or freeze for 2 months. 
To defrost, leave in the fridge overnight or warm in the oven.