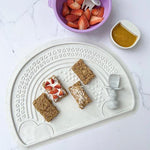 You can make this quick, easy breakfast or snack in under 5 minutes. You can also use these Oatmeal Fingers for Baby Led Weaning, and you can top them with fruit, yogurt, nut butter, or alongside purees. 
Prep time:

under 5 mins

Cook time:

4 minutes

Serves

: 1
Ingredients:
1/2 cup oats 

2 tbsp milled flaxseed 

1/2 tsp cinnamon or use vanilla 

2 tbsp apple sauce or use 1/4 mashed banana 

1/2 cup milk
Optional:
2 tbsp almond flour (great for added nutrients but can omit to keep nut free)
How to Make Oatmeal Fingers: 
In a shallow bowl, combine the oats, flaxseed, cinnamon (or vanilla), apple sauce (or banana), milk, and almond flour (if using).

Transfer to a microwave-safe dish, roughly 4x6 inches. 

Microwave for 3 minutes.

Allow to cool slightly before slicing into finger-width strips. 

Serve topped with yogurt, fruit, and nut butter alongside a fruit purée for dipping or just as they are. 

These can be stored in the fridge in an airtight container for 3 days.