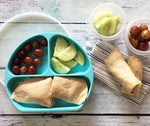 By Tammy of Musing of a Working Mom 
Quick & Easy Lunch Ideas for Back-to-School
As a busy working mom, I'm always looking for ways to save time. I try to spend time on the weekends prepping meals for the week ahead, and when I pack lunches for Pumpkin and myself, I look for things we can both eat, to make it easier.
The catch is that Pumpkin and I don't like to eat all of the same things. For instance, she can't stand mayonnaise or spinach … or any lettuce, really. But we can use some of the same base ingredients to pack our lunches for school and work to save time and money.
As I shared in my last school lunch round-up, we always try to include a protein, a dairy, a fruit, a vegetable and a grain. With the lids now available for the Bumkins grip dish, we can easily pack Pumpkin's lunch into the compartments and stick it in her lunchbox with her favorite superhero ice packs.
Turkey Roll-Ups
These couldn't be simpler to make and Pumpkin can even make them herself.
Kid version: Whole wheat tortilla, deli turkey, slices of jack and/or cheddar cheese; cucumbers; grapes.
Mom version: Whole wheat tortilla, pesto, deli turkey, jack cheese; cucumbers; grapes.
Salad/Pasta Salad
We love to have a DIY pasta salad for dinner, and the leftovers are great for lunch. (Side note: Hard-boiled eggs are one of the things I always try to make on Sundays. They are great to have on hand for breakfast, lunch or dinner, and can save the day when you don't have time to cook!)
Kid version: Pasta topped with sliced cucumbers and carrots and a side of Alfredo sauce (her fave); hard-boiled egg; grapes.
Mom version: Spinach topped with sliced cucumbers, tomatoes, carrots, peppers and a hard-boiled egg; side of ranch dressing; grapes.
Roast Chicken/Chicken Salad Sandwich
A roast chicken from Costco or the grocery store is another easy weeknight dinner that makes great lunch leftovers.
Kid version: Leftover chicken; cheese stick; carrots; raisins; crackers.
Mom version: Chicken salad (chopped chicken mixed with raisins, pecans, mayonnaise, and curry powder) on wheat bread with lettuce and tomato.
Now I can only hope I can carry my organization and enthusiasm for prepping throughout the school year!