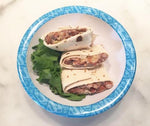 By Jessica Lehmann, Registered Dietician-Nutritionist
Text your friends - and remember to use the 🌮  emoji: National Taco Day is coming up on October 4! It's time to plan a family meal that celebrates the taco, the traditional Mexican street food turned global cuisine superstar. #NationalTacoDay
The basic definition of a taco is a corn or wheat flour-based tortilla wrapped around a seasoned protein such as meat or eggs, and topped with chopped fresh vegetables and salsa. The protein in the taco could be chicken, turkey, fish, beans, ground beef, pork, tofu, or eggs.   
According to food historian and University of Minnesota professor Jeffrey Pilcher, the earliest reference to the taco was recorded in the 1700s in Mexico. Mexican immigrants brought the tradition of eating tacos to America.  While tacos have always been part of Mexican-American food history, tacos became part of mainstream American culture after entrepreneur Glen Bell started the franchise Taco Bell. 
In Mexico, there have always been countless regional and local variations on the taco. There were international influences, too; for example, Lebanese migrants to Mexico added pineapple to pork-based tacos and created tacos al pastor, which became popular in Mexico in the 1960s and are widely available in the United States.
National Taco Day is your chance to embrace tacos your way and develop your own local variation. Here are my top five tips for keeping the meal easy and balanced:
Putting small amounts of ingredients into different bowls or areas of a plate can appeal to a preschooler's desire to put together their own taco.

Tacos are a great vehicle for veggies. Offer chopped lettuce, chopped cilantro, and chopped tomatoes as taco toppings.
Along with a side of tortilla chips and guacamole, salsa, and bean dip, serve a few types of raw vegetables, such as sliced bell peppers, jicama, cucumbers, and baby carrots (tip: slice carrots in thin strips to avoid choking).
If tortillas aren't a hit with your child, try offering a taco bowl instead; serve taco toppings with cooked quinoa or brown rice.

For convenience, use pre-cooked beans (canned, in small bags or in cartons), rotisserie chicken, frozen veggie burgers, and leftovers such as meatloaf.

Simple Turkey Taco Recipe
Serves 4-6
Ingredients
1 lb. raw ground turkey
1 tablespoon vegetable oil
½ cup finely chopped onion
½ teaspoon cumin
½ teaspoon oregano
¼ teaspoon salt
1/8 teaspoon pepper
Taco shells
Toppings: shredded lettuce, shredded cheese, chopped cilantro, chopped tomatoes, cubed avocado, salsa, sour cream (Tip: replace part or all of the sour cream with plain Greek yogurt to increase calcium and protein and reduce saturated fat) 
Instructions
Heat 1 tablespoon of vegetable oil in a pan on medium heat.
When the oil begins to shimmer, sauté the onion until it begins to turn translucent (3-4 minutes).
Add the ground turkey to the pan and sauté until it is cooked through (5-6 minutes).
Stir in the cumin, oregano, salt and pepper with the turkey and mix well.
Scoop turkey into the taco shells and serve with your choice of toppings.
Substitutions: Instead of the turkey, use chopped chicken (rotisserie chicken leftovers work well!), or cubed firm tofu. You could also use canned beans (drain the liquid first).
Cinnamon Sugar Crisps with Applesauce
Serves 4-6.
Ingredients:
8 corn tortillas, cut in triangles
Vegetable oil spray
1-2 teaspoons cinnamon
1-2 teaspoons sugar
Plastic container with lid
1-2 cups applesauce
Instructions:
Preheat the oven to 350 degrees.
Add the cinnamon and the sugar to the container. Put the lid on it and shake it to mix the cinnamon and sugar.
Spray the tortilla triangles with a light coating of vegetable oil spray
Put the tortillas into the plastic container and close the lid.  Shake the container to coat the tortillas evenly with cinnamon sugar.
Line a baking sheet with parchment paper.
Spread the tortillas in a single layer on the parchment.
Bake for 8-10 minutes. Flip the tortillas halfway through.
Serve with applesauce.