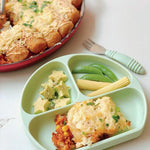 Recipe By: @my.little.food.critic
This casserole is sure to be a hit with the whole family. It's flavorsome, loaded with veggies, and so easy to make. 
Prep: 10 mins
Cook: 60 mins
Ingredients:
1 tbsp olive oil 

1 white onion, finely diced 

2 tsp minced garlic 

450g mince of choice 

1 heaped tsp smoked paprika

1 heaped tsp oregano

1/4 tsp oregano

A handful of chopped spinach

1 cup frozen sweetcorn 

1 1/2 cups crushed tomato 

2 cups grated cheddar cheese 

3 1/2 cups tater tots (about 16 – 18 tater tots)

A handful of chopped parsley 
How to Make Tater Tot Casserole:
Preheat your oven to 180°C / 360°F, and grease or a baking dish. 

Heat the olive oil in a large pan over medium heat when hot, add the onions and sauté for a couple of minutes. 

Then add the mince and cook for about 5 minutes. 

Next, add the garlic, smoked paprika, oregano, and black pepper. Sauté for a couple of minutes. 

Then add the spinach, sweetcorn, and crushed tomatoes—Cook for 10 minutes. 

Add 1 cup of cheese to the mixture and stir to combine.

Pour the mixture into the baking dish. Top with the tater tots. Then sprinkle over the remaining 1 cup of cheese. 

Bake for 40 minutes.

Sprinkle over some chopped parsley before serving. 
This can be stored in an airtight container in the fridge for 3 days. 
Love a casserole? Try this Broccoli Cheddar Casserole!