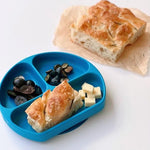 Recipe By: @my.little.food.critic 
This focaccia recipe is so easy to make and seriously delicious. It's fluffy, fragrant, a little moist, and flavoursome. You won't be able to stop at one slice!
Serves:

 

1 or 2 loaves
Prep time: 3 hours (only 20 mins active prep time)
Cook time:

 

22 mins
🥖 1 tsp kosher salt 
🥖 1 1/2 tbsp sugar 
🥖 1 packet fast-active instant yeast (2 1/4 tsp)
🥖 1 1/2 cups warm water 
🥖 4 1/4 cups bread flour or use all-purpose flour
🥖 5 tbsp olive oil 
🥖 Chopped rosemary or you could use dried Italian seasoning
🥖 A pinch of coarse Sea salt (can be omitted of making this for babies under 12 months)
🥖 Additional olive oil for greasing & coating (around 4 or 5 tbsp)
How to make Focaccia Bread:
Making the dough:
In a large bowl combine the water, yeast, and sugar. Allow this to sit for 10-15 minutes, until it foams up. 

Then add the flour, salt, and olive oil. Mix until combined and then knead until you have a smooth dough. You may need a dash more flour or water.

 




Shape the dough into a ball and set it aside.
Rising Dough: 
Grease the bowl you used to mix the dough with some olive and pop the dough back into the bowl.

 

Coat the top with some olive oil. Cover with plastic and allow this to rise in a warm place for 1 1/2 hours until it has doubled in size.

 




Once the dough has doubled, grease a large baking pan (roughly 15 x10 inches) or 2 smaller pans. 

Add the dough to the pan (divide equally if using 2 smaller pans). 

Stretch the dough out in the pan and ensured it's well covered with the oil.

 




Then using your fingers, punch down into the dough, almost all the way to create dimples.

 




Cover with plastic wrap again and let it rise in a warm place for another 1 1/2 hours.

 
Cooking your bread:

Preheat oven to 230c/450˚F. 

Drizzle the remaining oil over the dough and then sprinkle over the rosemary and sea salt. 

Bake for 22 minutes, until golden brown. Gently run a knife around the edges and use a spatula to remove the focaccia. Allow cooling on a cooling rack for 15 minutes before slicing. 
Enjoy! Store in an airtight container for up to 2 days.