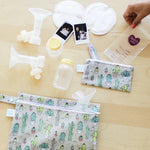 All month long, Bumkins is celebrating the amazing benefits of breastfeeding and pledging our support to all you wonderful mamas. Read on for pumping and breastfeeding tips from Bumkins' social media manager and new mom, Nadya. Plus, find ways you can join in on the celebration and show your support! 
Hacks & Tips by Nadya 
Happy World Breastfeeding Week to all you strong + amazing mamas. 💕
On my first day at Bumkins, I whispered to a coworker asking whether the women's bathroom was an 'ok' place for me to pump.
Within 15 minutes, another colleague created a private space for me and posted a 'Lactation Station, Do Not Disturb' sign on the door. ⁠
That day and the next, during my pumping sessions, I literally sat in that room and cried a little missing my baby. Then I smiled, thanking the universe for allowing me to continue to nourish my growing baby for as long as I choose to.    
While it may not work out for everyone, I feel grateful that I've been able to breastfeed…but it hasn't always been easy. Breastfeeding can be hard on women, especially new moms juggling motherhood while building a professional career. Here's how I've made it through 11+ months of breastfeeding as a working mom.
1. Schedule a consultation with a lactation consultant.
Not just when you give birth, but anytime you feel you need to. Mine went over the dos and don'ts for nursing and dispelled some silly myths about breastfeeding and nutrition.
2. Get yourself a good pump.
Do your research on which pump might best suit your needs and ask your doctor for recommendations. Also, call your health insurance, as they must cover the cost of a pump. They may have different models for you to choose from. I use the Medela Pump in Style, which comes in a black tote bag & I 💛 it. 
3. Get yourself a reusable wet bag to carry your pump parts.
The Bumkins Wet Bag is a time and sanity saver for working moms! It helps keep my pump parts separate and clean on my way to work. Each time I'm done pumping, I simply throw the dirty parts in my Wet Bag and store them in a cool, dry place until I get home to wash and sanitize them. 
4. Stock up on nursing bras.
I like to keep an extra one in my tote in case I leak through my bra and need to change. I purchased a few from Motherhood Maternity (retail for $24+) and a BUNCH from Walmart (Loving Moments by Leading Lady retail for $7.99). I wear the higher-quality ones with loose tops for added support.
5. Stock up on nursing pads.
Once my supply came in, I was leaking milk in between feedings. OH! And... also anytime I hear a baby cry, I'll start to leak (I didn't believe this happened until it did). So, it's good to keep a supply on hand. It's important to keep yourself dry to avoid irritation or infections.
6. Get yourself a Haakaa.
I'm big on not letting any drop go to waste, so when I'm at home, I nurse on one side and hold the Haaka up to the other breast. It works like a suction cup to collect breast milk. I get anywhere between 2 - 2½oz. Check your local children's and baby boutiques because they might carry them. I purchased mine from Zoolikins.
7. Join an online breastfeeding support group. 
Facebook is a great place to find support groups for all things motherhood. I'm currently a member of a few groups, including Exclusively Breastfeeding Mommies. This peer-to-peer support group has over 13,000 members, counting, and an excellent source for product recommendations, tips, and hacks.
There's a PDF available for download and a magnet as well. I took a screenshot of and saved the photo to my Favorites folder on my phone.
9. This last one is less of a tip and more me expressing my gratitude to be part of a team that supports new moms and motherhood in general. I've heard stories from my peers who say they stopped nursing because their lifestyle didn't exactly support the time and effort that goes into breastfeeding a child.
So, I consider myself very lucky to be able to continue breastfeeding my growing baby even while working.