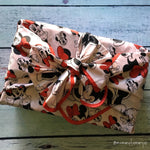 By Tammy of Momma Tammy
I love wrapping gifts, and I swoon over wrapping paper – in fact, I have rolls of it in my hall closet. But, the practical and environmentally conscious side of me knows that it can be pretty wasteful, too. So, I try to reduce that waste when I can.
Here are some alternatives to traditional wrapping paper.
Reusable Giftwrap
I tend to be a hoarder when it comes to gift bags and tissue paper. I use them over and over again, as long as they still look nice. (And even when the tissue paper starts to wear down, I use it as filler for mailing packages.)
In Japan, they use what is called furoshiki, a wrapping cloth that can be used over and over again as giftwrap. In addition to a using a furoshiki cloth, you can incorporate a part of a gift into the wrap. Options include scarves, sheets, blankets, dish towels or splat mats. Reusable snack bags can also be used for small items, like stocking stuffers.
Upcycled Giftwrap 
There are so many things you can use to make giftwrap after they've served their original purpose! A few ideas include sewing patterns, construction plans, kids' artwork, paper grocery bags, newspapers and newspaper end rolls (these are one of my favorites – and the girls', too! – because they are blank and can be customized with drawings, stamps, or other embellishments).
Tags and Bows 
Years ago, I ran across this tutorial to make a bow out of a magazine page, and I still make them! They are super easy and allows for reuse of the magazine pages before they get tossed into recycling.
For tags, every year after Christmas, I go through the cards we've received and use some of them to create gift tags. (See that and more ideas for reusing past Christmas cards here.)
Finding unique ways to wrap gifts is not only better for the environment, they can be better for your wallet, too! And a bonus is that you get one-of-a-kind giftwrap out of it, too!