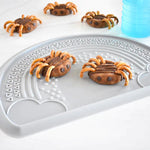 Recipe By: @athomewithastghik
These Spider Energy Bites are so festive and fun to make. Better yet, they're nutritious and delicious!
Ingredients:
1/4 cup uncooked quinoa, rinsed well
1/4 cup water
1/4 cup whole milk
1 teaspoon pure vanilla extract
2 pitted dates, small diced
1/8 teaspoon salt, a small pinch
1/2 teaspoon ground cinnamon
1 tablespoon pure maple syrup
2 tablespoons ground flaxseed
1/4 cup unsalted organic creamy peanut butter
Ingredients to create the Spiders:
🕷️ 1/4 cup semi-sweet mini chocolate chips, melted. ( for drizzling on top)
🕷️ Quinoa Peanut Butter Energy Bites recipe
🕷️ Mini semi-sweet chocolate chips
🕷️ Pretzels (I created the legs by cutting the curved parts of the pretzel off with a knife)
To melt the chocolate chips
Place chocolate chips in a glass microwave-safe bowl and microwave for 5 (10-second) intervals or until melted - mixing in between each interval. Transfer the melted chocolate to a piping bag and cut a very small part of the tip off, so the opening is small.
Note: there might be some melted chocolate left over. I drizzled the extra melted chocolate over the leftover pretzels.
To prepare the Quinoa Peanut Butter Energy Bites
Note: I recommend using a non-stick saucepan/pot to prevent the quinoa and milk from sticking to the bottom of the pot.
Add the rinsed quinoa, milk, water, and vanilla extract to a small pot or saucepan. Bring to a boil.

Lower heat to low, cover with a lid, and allow to simmer for 15-20 minutes or until the liquid has been absorbed and the quinoa has cooked.

Turn the heat off, add small diced pitted dates, cover with a lid, and allow the dates to soften with the internal heat for about 10 minutes.

Transfer the quinoa to a food processor and add the rest of the ingredients (salt, ground cinnamon, maple syrup, ground flaxseed, and peanut butter).

Blend (while scraping down the sides a couple of times) until the mixture is broken down and combined. The mixture should stick together when pressed between your fingers.

Carefully remove the blade and transfer the mixture to a bowl.

Scoop 1 tablespoon of the mixture and form a round disk to resemble the spider's body. Transfer this to a baking sheet lined with parchment paper. Continue this until all of the mixture has been used up.

Add mini-semi chocolate chips for the eyes.

Use the piping bag (with a small tip or opening) filled with the melted chocolate to drizzle the chocolate over the round disks.

Add the cutout pretzel pieces to act as the legs.

Transfer the baking sheet with the spiders to the refrigerator to cool for 1 hour.

Keep them in the refrigerator until ready to serve.
Looking for more festive treat ideas? Get creative with these spooky halloween cookies with royal icing!