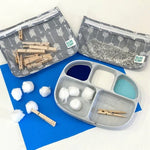 We continue our month-long celebration of imagination and creativity with Leslie of @minnievanmom, sharing artistic activities and easy painting crafts for kids you can do, right from a Grip Dish!
This joyful mama and former Disney World Cast Member is no stranger to the magic of imagination and puts hers to work, dreaming up fun crafts, snacks, and adventures for life with littles!
Follow along as she shows us how to make a snowball painting, a tissue paper rainbow, and firework art using a fork as a paintbrush! 
We love to see our products repurposed and reimagined! All of these fun ideas can be done using our silicone toddler plates, designed with deep walls, an excellent and eco-friendly palette for messy materials. 
Jumpstart your little's creative engine, and be sure to check out Leslie's blog for more inventive ideas and heartening reflections on enjoying the magic of motherhood.
Snowball Painting
Materials
Cotton Balls

Clothespins

Blue Poster Board

Paint (white, dark blue, light blue)

Glitter

Bumkins Grip Dish

Bumkins Reusable

Clear Travel Bags
Instructions
Fill each Grip Dish compartment with a different paint.

Fill the clear travel bag with glitter.

Using a clothespin, carefully pick up a cotton ball.

Dip the cotton ball into the paint and paint it onto the poster board.

Continue painting with new cotton balls and different colors.

Once complete, unzip your bag and sprinkle glitter onto the wet paint.

Shake off excess glitter and allow little's finished painting to dry.
Fork Firework Art
Materials
Bright Paint

Cardstock

Glitter

Bumkins Grip Dish

Bumkins Reusable Snack Bag
 Instructions

Fill each plate compartment with different bright paint.      

Fill your clear travel bag with glitter.

Carefully dip the toddler fork into the paint and spread it onto the cardstock in a circular pattern that looks like a firework.

Repeat this process with different color paints, making multi-colored fireworks.

When you are done painting, grab some glitter from your bag and carefully sprinkle a litter over the top of your artwork.

Shake off excess glitter and let the painting dry.
Tissue Paper Rainbow

Materials
Cardboard

Tissue Paper – different colors, cut into squares.

Glue

Cotton Balls

Bumkins Grip Dish
Instructions
Fill one section of your Grip Dish with glue.

Fill the remaining sections of your plate with your cut up tissue paper.

Cut the cardboard into the shape of a rainbow.

One by one, dip the tissue paper squares into the glue and place onto the cardboard cut-out in rainbow order.

When complete, glue a handful of cotton balls on either end of the rainbow to look like clouds. Let your rainbow dry.
Want to carry some of that creativity into the kitchen? Check out parts one and two of our series, where we share healthful, artistic recipes and quick tips for making mealtime more fun!