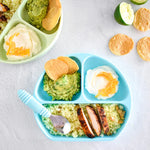 Recipe By: @athomewithastghik
Chicken tacos are easy to make and make for a great weeknight meal. I like to make my taco seasoning from scratch. I like adding ground flaxseed and ground turmeric for extra nutrients. The tacos can be served in taco shells/tortillas or deconstructed.
Ingredients to make the Chicken Tacos:
1 pound chicken breast or breast tenders (I used thinly sliced chicken breasts)
taco seasoning (see recipe below)
2 tablespoons avocado oil
1 tablespoon lime juice
Ingredients to make the 🌮  Taco Seasoning:
1 tablespoon chili powder
1 teaspoon ground flaxseed
2 teaspoons ground cumin
1/2 teaspoon salt
1/2 teaspoon garlic powder
1/2 teaspoon onion powder
1/2 teaspoon sweet paprika
1/4 teaspoon dried oregano
1/4 teaspoon ground turmeric
Method:
1. Preheat the oven to 400F
2. Make the taco seasoning & marinade:
Add the spices to a bowl.
Mix with a fork to combine.
Add the oil and lime juice, and mix to combine.
Transfer the marinade to a bowl with the chicken.
3. Evenly coat the chicken with the marinade.
4. Transfer the marinaded chicken to a baking sheet lined with parchment paper and roast it in the oven for 15 minutes.
5. Carefully remove the chicken from the oven. Then, flip the chicken over to roast on the other side, for 10 more minutes or until the chicken has cooked through and registers to 165F when checked with a food thermometer.
Note: cooking times may vary depending on the thickness of the chicken. I used thinly sliced chicken breasts.
6. Let rest for 5 minutes. Then, cut into desired-sized pieces and enjoy with favorite toppings!
Served with rice with chickpeas and chicken, spinach guacamole with chips, sour cream with shredded sharp cheddar cheese.
 Pictured: Platinum Silicone Grip Dish + Toddler Utensils.