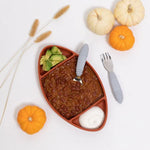 "A home that smells like fall is the source of all joy." - Bumkins proverb
Okay, it's a self-proclaimed proverb. But it's true! Fall is the time of year that is bursting at the seams with wonderful smells of pumpkin, maple, spices, crock pot favorites and so much more. Check out these easy (and delicious) recipes that are sure to bring "fall" into your home–Easy Turkey Chili and Pumpkin Spice Maple Oatmeal Bars! 
Sending a special thanks to our friends @thelifestruck for sharing her recipe to make Pumpkin Spice Maple Oatmeal Bars packed in our Reusable Snack Bags for on-the-go nibbling! (pictured below!) What are your favorite fall smells? Let us know in the comments!

Pumpkin Spice Maple Oatmeal Bars
These delicious snack bars are an excellent vegan option for your littles. They are dairy and gluten-free, plus naturally sweetened. 
Ingredients:
🍁2 1/2 cups gluten-free oats
🍁1 cup plant milk (almond milk is great)
🍁1/2 cup pureed pumpkin
🍁1/4 cup pure maple syrup 
🍁1/4 cup coconut oil, melted  
🍁1 egg (can substitute flax egg)
🍁1 tsp vanilla
🍁2 tbsp chia seeds
🍁1 tsp cinnamon
🍁1/2 tsp each (nutmeg & ginger)
🍁1/4 clove or allspice, optional
🍁1/2 tsp baking powder
🍁1/4 tsp baking soda 
Directions:
Lightly grease an 8" x 8" baking pan with a natural oil such as coconut oil

. While the oven is preheating, use it to melt your coconut oil. Add 1 cup of the oats to a blender and process until fine. Set aside.
Combine milk, pumpkin, maple syrup, oil, egg and vanilla in a large bowl. Add remaining whole oats and dry ingredients. Pour batter into pan. Bake 35-40 minutes. Cool before slicing. To freeze, wrap individual bars in plastic wrap and store in an airtight container.
Easy Turkey Chili Recipe:
Fall is in the air–and you need to bring it home! To do so make this Easy Turkey Chili Recipe for your littles served in our Football Silicone Grip Dish. It's one soul-satisfying slow cooker favorite the entire family will love.
Ingredients:
🍁2 lbs of lean turkey
🍁2 green chilis (no seeds)
🍁4 tomatoes
🍁1 cup of corn kernels 
🍁1 can of kidney beans 
🍁15 oz can of tomato sauce
🍁6 oz can of tomato paste
Top with:
🍁diced avocado
🍁Greek yogurt
🍁sour cream
🍁shredded cheese
Directions

:
Cook the ground turkey in a large skillet over medium-high heat. Drain the excess juice and cook until turkey browns and is no longer pink. Break up the ground turkey into smaller bits with a spoon or spatula. Once this is completed, place ground turkey in the crock pot.
Dice up the tomatoes and green chilis. Put into crock pot.
Add corn, tomatoes, kidney beans, tomato paste, & tomato sauce into the crock pot.
Set crock pot to cook on high for 4 hours or low for 5-6 hours.
Serve with desired toppings and enjoy!