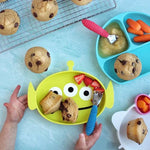 Author: Lunches + Littles
Hi Bumkins Blog readers! 
It's @lunchesandlittles here and we are so excited to be taking over the Bumkins blog sharing a recipe that is kind of perfect for these unexpected times. 
In the last week, a lot of us have found out that school is out for March- and maybe some of April (or longer). And as we all rush to find a new normal with our kids being home (and a lot of us suddenly working from home ourselves), for most of us, meal times are going to look a little different- for our kids and for us all.
Today, we are sharing our Easy Chocolate Chip Puffins recipe, which can be served for breakfast or as a mid-day snack. It is also simple enough to get the little ones involved in the kitchen #bonus!
We have been seeing people put out really fun and easy sheet-pan pancakes and puffin (part pancake-part muffin) recipes for the last few years, but only pretty recently gave them a go. One day our son just begged us for some chocolate chip pancakes, but we really wanted something a bit more appropriate for on-the-go, and our Easy Chocolate Chip Puffins were born!
Now, if you already follow us over on our feed, you know that we love sharing recipes that are not only great for little hands, but also great for getting kids in the kitchen to help with, and right now is as good a time as any to get some extra shared kitchen time in, don't you think? Getting children regularly in the kitchen and hands on with meal prep is hugely helpful for picky eaters, and these days when most of us are suddenly taking on the role of teacher in so many more ways than one- this recipe is great for not only the hands on part, but heck- you could even do a math lesson with the ingredients (dependent on age), or let your little ones count out chocolate chips, etc.
Our Easy Chocolate Chip Puffins are, well, EASY, and for the most part made up of kitchen staples. So, take a look at the ingredient list below and see if you have what you need. If you do- would YOU try this recipe with your little one(s)? And, if you don't have all of these ingredients on hand- shoot us a direct message over on our feed, @lunchesandlittles and we can brainstorm together some substitutions/suggest a recipe with what you do have on hand. After all, we are ALL in this together! Now let's get baking these yummy little puffins- seriously, you may never flip a pancake again!
And, we couldn't end this without mentioning these ADORABLE new character plates from Bumkins! I mean, are you serious? These are so amazing. Our youngest is loving his new Toy Story Alien Silicone Grip Dish - new from the Bumkins x Toy Story Collection, oh and you can't forget the girls…. our daughter is Hello Kitty-obsessed and is loving her new Hello Kitty Silicone Grip Dish and Snack Bags, part of the Bumkins Hello Kitty Collection. Check out more from these collections, as well as other favorites like Harry Potter, DC Comics, Winnie the Pooh, The Lion King - and more all available now to shop online (so you can stay inside!) right on their website.
Check out the full recipe and instructions below. If you give these a try we'd love to see! Be sure to tag/mention us: #bumkinsbaby/ @bumkinsbaby and #lunchesandlittles/ @lunchesandlittles in your posts and/or stories!
*And, as always, before starting, be sure to read through the entire recipe below to ensure best results!
EASY CHOCOLATE CHIP PUFFINS: RECIPE
INGREDIENTS:
🍪1/2 Cup of butter (room temperature or softened)
🍪1/3 cup sugar
🍪 1 Large egg
🍪 2/3 Cup plain yogurt*
🍪 1 and 1/4 Tbsp pure vanilla extract
🍪 1/2 Cup of bread flour**
🍪 1 Cup all-purpose flour
🍪1 Tbsp baking powder
🍪1/2 Tsp salt
🍪1/4 Cup milk of choice, more or less as needed (see note below in instructions section)
🍪1/2 Semi-sweet chocolate chips, or more as desired
Pro-tip: Plain yogurt can be swapped out for vanilla yogurt for added flavor.
**If you do not have bread flour substitute it for 1 and 1/2 cups all-purpose flour.
INSTRUCTIONS:
🍪Pre-heat oven to 375 degrees and line a 12-well muffin pan with liners. Set aside.
🍪Using a stand mixer (ideally) or a bowl and hand mixer, combine the softened butter and sugar, scraping down the sides of the bowl as you go.
🍪Then, add the egg, yogurt and vanilla. Mix thoroughly.
🍪Next, add in your flour(s), baking powder and salt. Again thoroughly mixing to combine.
🍪Depending on your batter's consistency: add milk as needed. Note: you may just need a splash or two. Combine until you have a nice, batter-like consistency (you want it to be thick, but still batter-like).
🍪Once consistency is achieved, add in about 80% of your chocolate chips (keep some aside for topping).
🍪Transfer mixture into wells, as evenly as possible. Once batter is divided, add remaining chocolate chips to the tops.
🍪Bake puffins for approx. 15 minutes, then check them. Once a toothpick comes out clean and they are slightly golden, they're done. You may need to adjust the time based on your oven. Our puffins were done in just over 15 minutes.
🍪Once done, remove from oven and allow to cool a few minutes.
🍪Finally, serve with a bit of butter or syrup, or just enjoy as is!
🍪 YUM!
For more quick and easy recipes be sure to check out our feed, @lunchesandlittles where we are making meals fun and sharing easy, family-friendly recipes just like this one, all of the time. And of course, be sure to check out bumkins feeding supplies, and more for your little ones.