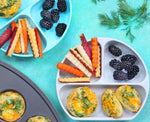 Easy Cauli-Herb Egg Cups
Author: Lunches + Littles
__________________________________________________________________________
Hello Bumkins blog readers! We are so excited to be popping in today from our feed, @lunchesandlittles to share an easy recipe that is a major mom (or dad!) win.
Now, if you are anything like us, when it comes to recipes, sometimes breakfast foods get pushed aside, and we focus all of our attention on lunch and dinner options. Of course, lunch and dinners are great (and necessary), but so are easy non-cereal, healthier breakfast options. And, as the school year goes on and the Holidays approach, these kinds of breakfasts are a must-have for the busy mornings in our home. What about yours?
So today we are sharing the recipe for our Easy Cauli-Herb Egg Cups. These little muffins are healthy, tasty, easy and fun for kids to eat. After all; who doesn't love to eat with their hands!? And, you can even make them in advance on a weekend, for example, to eat throughout the week. In our home, we really don't do a lot of actual meal prep, but easy muffins like these, are a no-brainer; we just double the recipe we make on the weekends, and then have them for the week ahead. And that's the easiest meal planning around!
Perfect for the freezer; these muffins are a new staple in our home. Another thing that we love about these little muffins or egg cups, is that they pack a whole bunch of herby flavors that we sometimes shy away from when it comes to feeding littles. They also pack in spinach and cauliflower among other goodness. Serve them up with some fresh fruit and (more!) veggies (yes – we love veggies at every meal; including breakfast!) and you have one a-mazing meal. So, let's get right to it! Check out the full recipe below, and please note, as with all our recipes, be sure to read through the recipe below in its entirety to ensure best results!
INGREDIENTS: 
2 cups riced cauliflower (make it extra easy and buy a bag in the frozen vegetable aisle!)
1/2 tsp dried basil
1/2 tsp dried oregano
1/4 tsp dried dill
8 large eggs (use 9-10 medium eggs if you don't have larger ones)
1/2 tsp salt
1/2 tsp pepper
1/2 cup all-purpose flour
1/2 tsp baking powder
1 cup shredded cheese (divided) (I used 1/2 cup mozzarella + 1/2 cup shredded cheddar)
1 handful (more or less to taste) of spinach (roughly chopped)
*Optional: fresh dill for topping (I just love the addition of fresh in this recipe!)
*You will also need a muffin pan and non-stick spray for greasing.
INSTRUCTIONS:
Pre-heat your oven to 350 degrees and spray your muffin pan wells with non-stick spray. Set greased pan aside.
In a large mixing bowl combine the following: riced cauliflower, basil, oregano, dill, eggs, salt and pepper. Mix until well-combined.
Next, add in your flour and baking powder until completely incorporated into your mixture.
Then, add in 3/4 of your cheese (reserving the rest for topping) and chopped spinach. Gently mix to combine.
Carefully spoon mixture into muffin pan wells; your wells should be pretty much filled to the top.
Sprinkle with reserved cheese and small pieces of fresh dill, if desired.
Bake muffins for approximately 20 minutes, until completely baked through.
Remove from oven and allow to cool for a couple minutes before removing from pan.
Enjoy, or store in the freezer to re-heat later in the week. Yum!
For more easy, family-friendly recipes be sure to check out our feed, @lunchesandlittles, where we are serving up healthy dishes, fun and colorful desserts and other recipes just like this one, all the time. And, be sure to get your hands on some of the plates shown here from Bumkins – we love their Grip Dishes, and that is just the beginning when it comes to feeding items for little ones.
For another nutritious and delicious recipe from Lunches and Littles click here.