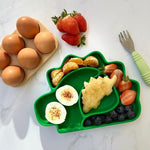 We all need 10-minute meal ideas because sometimes there just isn't enough time, right?! These are so quick and easy and taste delicious!
Peanut butter, jelly, and banana roll-ups
Ingredients:
1 tortilla
2 tbsp peanut butter
2 tbsp jam of choice
1 banana
Steps:
1. Spread the peanut butter evenly over the tortilla.
2. Next, spread the jam over.
3. Place the banana at one end of the tortilla and tightly roll it up.
4. Cut into equal-sized pieces.
5. Serve as it is or alongside some fruit and yogurt.
Boiled egg with toast and fruit
Ingredients:
1 boiled egg
A pinch of sumac
Toast
Fruit
Steps:
Boil the egg in hot water for 8 minutes
Place into an ice bath for 2 minutes
Peel the egg and slice it in half
Top with sumac
Serve alongside toast and fruit
Creamy tomato pasta
Ingredients:
1 cup pasta of choice
1 tbsp olive oil
1 heaped tsp minced garlic
A large handful of spinach, finely chopped
A handful of basil, finely chopped
1/4 cup tomato sauce or sub passata
A pinch of pepper
1/4 cup full-fat cream cheese
Steps:
Cook the pasta according to the packet instructions.
Heat the oil in a pan and sauté the garlic for a couple of minutes. Add in the spinach and basil and cook for a couple of minutes.
Pour in the tomato sauce and cook for a few minutes.
Then add in the cream cheese and pepper. Stir until smooth and creamy. Finally, add a milk splash if the sauce is a little thick.
Drain the pasta and add to the sauce, stirring well.