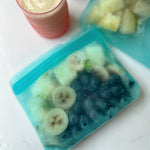 Recipe By: @my.little.food.critic 
Smoothies make a great nutritious snack or breakfast. Get ahead on busy days with these DIY smoothie freezer packs. Simply prep the ingredients, pack them into Bumkins Silicone Flat Reusable Bags, and freeze. When you're ready, just grab a bag from the freezer and blend to enjoy!

Prep: 15 mins
Freeze time: 4 hours
Ingredients
Smoothie Base
1 ½ cups Greek yogurt or milk (or use a dairy-free alternative)
Pineapple & Pear
1 pear, cored and chopped
½ banana, cut into slices
1 cup of pineapple, chopped into cubes
8 cubes of smoothie base
Blueberry & Avocado
1 cup blueberries
½ avocado, pitted, peeled and chopped
½ banana, cut into slices
8 cubes of smoothie base
Steps
1. Pour the milk/yogurt into ice cube molds and freeze.
2. Prep the fruit.
3. Portion the fruit into the silicone bags and add the frozen cubes of milk/yogurt.
4. Squeeze out as much air as possible and freeze.
5. When ready to make your smoothie, empty the bag's contents into a high-speed blender and whizz until smooth and creamy.