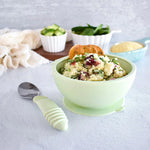 Recipe By: @athomewithastghik
This salad is such a simple yet delicious recipe! I love the different flavors and textures this salad provides. The cucumbers help make it refreshing and crunchy, while the sweetened dried cranberries add a hint of sweetness. These all pair so nicely with the rest of the ingredients. 
I added oven-roasted chicken to the salad, but rotisserie chicken or any kind of chicken will also work.
Ingredients:
3/4 cup uncooked Couscous

1 heaping cup chicken, small diced chicken (may use rotisserie chicken or oven-roast your own chicken)

1 cup Persian cucumbers, small diced

1/2 cup grape tomatoes, small diced 

1/2 cup sweetened dried cranberries, diced

1/2 cup cilantro, finely diced

1 cup spinach, finely diced 

1/3 cup mayonnaise 

1/2 cup sour cream

1 small garlic clove, finely grated 

1/4 teaspoon salt

1/8 teaspoon ground black pepper 

2 tablespoons milk
Pictured: Sage Silicone Grip Dish 
Method:
Cook and prepare your couscous according to the directions on the package. Set it aside. 
 Note: Fluff the couscous with a fork before transferring it to the bowl.
In a small bowl, prepare the dressing:
Add the mayonnaise and sour cream, then mix to combine. 

Use a grater to finely grate one garlic clove. 

Add salt, pepper, and milk. Mix well to combine.

Set the dressing aside. 
To a large bowl, add the fluffed couscous. Then:
Add the diced chicken, diced cucumbers, diced tomatoes, diced sweetened dried cranberries, finely diced spinach, and finely diced cilantro.

Toss to combine.

Add the dressing and toss well to coat evenly.
Serve and enjoy!
Let us know how yours turned out @bumkinsbaby or in the comments below!