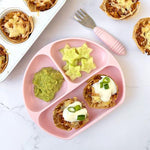 By: @my.little.food.critic

Adding this delicious recipe to your dinner rotation is easy! It only takes a few ingredients and 15 minutes in the oven!

Prep: 10 mins
Cook: 12 mins
Serves: 12 mini tacos cups
Ingredients:
2 tbsp olive oil
6 tortillas (medium/large sized)
1 1/2 cups shredded chicken
1 tsp ground cumin
1 tsp paprika
1 tsp minced garlic
1 tsp onion powder
1 tsp oregano
1/2 tsp black pepper
Salt to taste
1/2 cup salsa or use marinara sauce
1 cup grated cheese (cheddar or monetary jack)
For serving (optional):
1/2 cup sour cream or guacamole
1 scallion, diced
How to Make Chicken Taco Cups:
Preheat oven to 190c/375f. Coat muffin holes of 2 muffin tins with the oil.
In a bowl, combine the shredded chicken, cumin, paprika, garlic, oregano, black pepper, and salt (if using).
Add the salsa (marinara) and stir again.
Cut each tortilla into 4 equal pieces (either square-shaped or circular).
Place the tortilla into the muffin tin (you may need to overlap the pieces to ensure the base and sides are completely covered). Spoon in 2 tbsp of the chicken mixture. Sprinkle over some cheese. Repeat with the remaining tortillas and cheese.
Bake for 12-15 minutes until crispy, and the cheese is bubbling.
Serve topped with sour cream and chopped scallions.
These can be stored in the fridge, in an airtight container for 2 days.