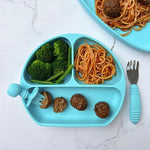 These meatballs are loaded with veggies and are SO easy to make! You can easily double or triple the batch for an easy dinner.
Prep time:

15 mins

Cook time:

20 mins

Serves:

15 meatballs
Ingredients:
1 pound chicken mince

2 tbsp olive oil

1 tbsp minced garlic

½ tsp black pepper

1 carrot, grated

1 small zucchini, grated

½ cup broccoli, finely chopped

3 tbsp parsley, finely chopped

1/4 cup pesto

1/2 cup breadcrumbs
Steps
Preheat oven to 375 degrees and line a baking tray with parchment paper.

Add the chicken, 1 tbsp olive oil, garlic, black pepper, carrot, zucchini, broccoli, parsley, pesto, and breadcrumbs to a large bowl and stir to combine. 

Scoop out about a tablespoon of the mixture and roll into balls. 

Use the remaining tbsp of olive to brush each ball with oil.

Bake for 18- 20 minutes, until golden and cooked through. 

These are great served alongside spaghetti and marinara or as a snack with a dipping sauce.

You can store the meatballs in an airtight container in the fridge for up to three days or in the freezer for up to two months.