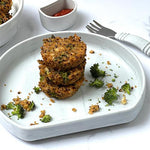 Recipe By: @my.little.food.critic
These protein-packed bites are quick to make and perfect for an easy lunch or snack on-the-go!
Prep time:

10 mins

Cook time:

15 mins

Serves:

Family
Ingredients:
2 cups cooked quinoa 

1 1/2 cups finely chopped broccoli 

1 cup grated cheese

2 eggs 

1 tsp minced garlic 

1 tsp onion powder 

1 tsp paprika

1 tsp oregano 
Steps:
Preheat oven to 360 degrees F and spray or line a muffin tray.

Combine the quinoa, chopped broccoli, eggs, garlic, onion powder, paprika, and oregano in a bowl. Stir until the mixture comes together.

Divide the mixture evenly between the muffin holes. Be sure to press it down firmly.

Bake for 15 mins, until golden and cooked through. 

Allow cooling for 10 minutes before removing from the tray.
Store in the fridge in an airtight container for four days or freeze for up to 1 month. Defrost in the oven or fridge overnight.