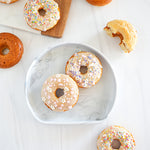 Recipe By: @athomewithastghik
These donuts are baked in the oven and are easy to make. They contain oats and cottage cheese for some extra nutrients. Additionally, they're fluffy, moist, and delicious!
You may top these with a glaze* and some sprinkles or enjoy them alone. Either way, they makes for a tasty treat! 
*Bonus glaze recipes below!
Baked Vanilla Cottage Cheese Donuts
Serving Size: Makes about ten donuts 
🍩 1 cup all-purpose flour
🍩 1/2 cup cane sugar or coconut sugar 
🍩 1 teaspoon baking powder
🍩1/4 teaspoon baking soda
🍩 1/4 teaspoon salt
🍩 1/2 cup old-fashion rolled oats
🍩 1 large egg 
🍩 1/2 cup cottage cheese
🍩 2 tablespoons avocado oil
🍩 3/4 cup whole milk
🍩 2 teaspoon vanilla extract
Instructions:
Place the rack in the center and preheat the oven to 375F

To a bowl, add the all-purpose flour, sugar, baking powder, baking soda, and salt. Mix it with a fork in a whisking motion to incorporate and set it aside.

To a food processor, add the oats and blend until it's broken down. Next, add the egg, cottage cheese, avocado oil, milk, and vanilla extract. Blend until it's incorporated, and transfer it to the dry ingredients. Mix to combine and allow the batter to sit for 15 minutes.

Grease the donut pan with butter.

Using a tablespoon measure, scoop 3 tablespoons into each donut section of the pan. Smooth out the tops using the back of a spoon.
Bake in the oven for 15-17 minutes or until a toothpick comes out clean when inserted into the donut's center. Allow to cool for 5 minutes.
Transfer to a wired rack to cool completely.
To glaze the donut:
Make sure the donuts have cooled completely. For easy cleanup, line a baking sheet with aluminum foil, then put parchment paper on top (the aluminum foil will help keep the parchment paper stable when the time comes to remove it).
Place a wire rack on top of the parchment paper. Place the donuts on the wired rack with the golden-color side down.
Spoon some of the glaze over the donuts and immediately add desired sprinkles. Follow this process one donut at a time so the sprinkles adhere to the glaze.
Allow the donuts to sit for a few minutes to help the glaze set.
Enjoy! 
Simple Vanilla Glaze 
1/2 cup powdered sugar 

1 tablespoon milk

1/2 teaspoon vanilla extract 

1/8 teaspoon salt
Add the ingredients to a bowl and mix with a fork to combine. 
Maple Syrup "Glaze"
2 tablespoons maple syrup

1 teaspoon of lukewarm water
Add the ingredients to a bowl and mix with a fork to combine.