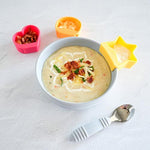 Recipe By: @athomewithastghik
If you like potatoes, especially loaded potatoes, try this recipe. It combines the goodness of potatoes and cauliflower, with the latter barely noticeable but packed with nutrients. Include bacon, sour cream, spinach, chives, cilantro, or parsley as desired to create a delicious and filling soup the the whole family will love. 
Ingredients:
⭐️4 strips of bacon 
⭐️1 onion, diced
⭐️1 celery, diced
⭐️1 carrot, peeled and diced 
⭐️2 garlic cloves, minced 
⭐️1 teaspoon thyme, chopped
⭐️3 tablespoons of all-purpose flour
⭐️2 cups half and half
⭐️4 cups low sodium chicken broth 
⭐️2 cups diced cauliflower florets
⭐️4 cups gold or yellow potatoes cut into uniform-sized chunks, peeled and diced 
⭐️1/2 cup sour cream
⭐️1 1/2 cups shredded white or yellow sharp cheddar cheese 
⭐️2 1/2 teaspoons salt
⭐️1/2 teaspoon ground black pepper
Method:
Cook the bacon in a pot over medium heat, then remove it from the pot and place it on a plate with paper towels to help absorb some of the grease.
Add the diced onion, carrot, celery, and

thyme

to the pot with the rendered bacon fat. Cook for 3 minutes or until the onion becomes translucent.
Add the garlic and cook for 30 seconds. Add the flour and mix. Cook for about 2 minutes whisking constantly.
While whisking continuously, slowly add the half and half and chicken broth. Continue to whisk or mix for 2 minutes to help prevent lumps. 
Add the diced potatoes and cauliflower. Turn up the heat and bring it to a boil. Once it starts to boil, cover it with a lid and reduce the heat to a low boil.
Cook the potatoes for 15 minutes or until fork-tender (while mixing a few times).
Turn the heat off. Mash or blend the ingredients carefully and slowly with a masher or immersion blender. 
Mix in the sour cream and cheese until smooth.
Add salt and pepper to taste. For salt, I used 2 1/2 teaspoons since there are many potatoes in this dish, which typically require a generous amount.
If desired, plate and garnish with crumbled bacon and more sour cream.