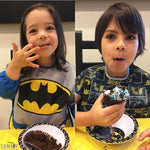 by Tammy of Musings of a Working Mom
KAPOW!
Batman is a big deal around our house, so we cannot let National Batman Day on September 23 pass without a celebration. Even the Dark Knight needs to have a little fun every once in a while!
The fun thing about having siblings is that any day can be a party! For ours, we start with cupcakes, because what's a party without cake?
BAM!
To prepare, I take the Batman Costume Sleeved Bib into the cake supply store to color match sprinkles so I can make a custom Batman sprinkles mix. I love that my local cake decorating supply store has sprinkles in bulk, so I can mix and match and get just the colors I am looking for in the quantities I choose. I select different shapes of sprinkles in blue, black, yellow and silver to match the bib.
When making cupcakes for just us, I like to make a small batch so we don't have too many extra sweets around the house. This is the recipe I follow to make a half-dozen chocolate cupcakes. (If you make the vanilla ones, you could mix sprinkles into the batter, too!)
Once the cupcakes cool and the frosting whipped, I give the girls each a small cup of frosting, and let them frost their own cupcakes and top them with the sprinkle mix. I get in on the fun, too, and decorate some myself using a frosting tip.
ZAP!
To really make it feel like a party, I pick up a few favors and stuff them in small Bumkins Snack Bags featuring Batman prints. Have you ever noticed that kids go nuts over the littlest things? Mine have a habit of complaining when I think I've done something really spectacular, but being totally wowed when I think something's not a big deal. And that's exactly what happens here – these treats are about 40 cents each at the party store, and they'll be ecstatic! They'll blow bubbles right away and color in the coloring books for days.
POW!
Once they are done celebrating, they hang the bibs in the kitchen, leave the mess for Alfred (mom) to deal with, and escape to the Bat Cave (play room) to change into masks and capes and save Gotham City from evil.