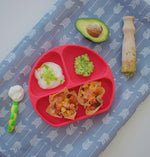 Hello, my name is Jude and I am a mama to a lovely picky eater toddler named Issa. I am excited to share with you the recipe for these delicious mini wonton taco cups; a meal that my toddler absolutely loves eating and helping me put together. They were a hit at his birthday party among the kids and adults! 
Served on a platter with sour cream dip, or topped with mashed avocado, these cups take 20 minutes to make and are a fun and exciting way to get your kids involved in the kitchen (without making a big mess, ok maybe just a little). 
Taco Wonton Cups
Serves 12
Time: 20 minutes
Ingredients:
1/2 lb ground beef

1 onion, chopped

1 clove of garlic

12 wonton wrappers

1/2 pack of taco seasoning

1/2 tbsp olive oil

1 chopped tomato

1 cup of corn

1/2 cup shredded cheddar & Monterey Jack cheese
Dips:
1/4 cup sour cream

2 green onions, chopped.

1 mashed avocado

1/4 cup cilantro

1 tsp lemon juice.
Preheat oven to 375 F. Spray and line wonton wrappers in a muffin tin.

Place the ground beef in a skillet and cook over medium-high heat, add onions, drain any excess water in the skillet. Add olive oil and taco seasoning then sauté over medium heat.

Divide ground beef between the 12 muffin cups. Top with corn, diced tomatoes, and cheese.

Bake for 10 minutes, or until wontons are browned.

Serve with sour cream and mashed avocado with cilantro and lemon juice stirred in.

For more kid-friendly recipes follow my Instagram page @issa.feast or check out my blog https://issafeast.com/; it's all about nutritious food ideas for picky eaters, and simple recipes using everyday foods for the whole family.