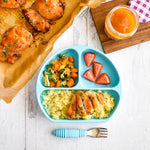 Recipe By: @athomewithastghik
Have you tried combining apricot jam with chicken? They pair so nicely together! The onion powder helps give it an extra subtle flavor, while the salt helps enhance and brings all of the flavors together (you may leave the salt out if desired).
Ingredients:
🍑 6-8 chicken thighs (I used boneless skinless chicken thighs)
🍑 1 cup apricot preserve
🍑 2 tablespoons low-sodium chicken stock
🍑 Salt and onion powder (for seasoning chicken)
Method:
Safety Note: when handling raw chicken, please be sure to wash your hands with soap and water along with any kitchen utensils or items that touched the raw chicken.
Preheat the oven to 400F
Line a baking sheet with aluminum foil then parchment paper on top (so the chicken sits on the parchment paper). This is mainly for easy clean-up. Then, set it aside.
To a bowl, combine the apricot preserve and the chicken stock. Mix to combine and set it aside.
Place the chicken pieces on the baking sheet in a single layer, making sure they aren't touching one another or overcrowding the pan. Sprinkle salt on both sides of the chicken. Then add some onion powder to the top part of the chicken.
Note: When sprinkling some onion powder, be sure not to apply too much to the chicken as it can overpower the other flavors.
Spoon the apricot mixture over each piece of chicken. Make sure the mixture is coating all of the chicken and place it in the oven.
Roast in the oven for about 40-45 minutes or until the apricot glaze on top has caramelized and the internal temperature of the chicken registers to 165F (when checked with a food thermometer).
While roasting, I took the chicken out every 15 minutes and basted it or spooned some of the apricot jam mixture in the pan over the chicken.
Once it's cooked, allow it to sit for 15 minutes.
Cut into desired pieces and serve.
I served with rice, steamed veggies (broccoli and sweet potatoes), and strawberries.
Let us know how yours turned out in the comments!