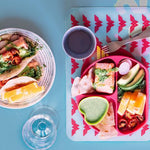 ▶︎Adventurous Eaters is our space for parents to contribute how they've dealt with their picky eaters. We have guest contributors give tips and tricks and share recipes with you all. Our first guest is HeeJee of @white.blank.space ◀︎
Hi there, this is HeeJee of @white.blank.space. I'm so excited to share my tips and recipe on Bumkins' Adventurous Eaters series.
On my page, I've been mainly sharing the food I cook for my 21-month-old munchkin. Hubs and I are both lovers of food, and we wish munchkin to grow up as an adventurous eater so she can join in the fun. In the beginning, munchkin was a champion eater. But from a couple of months ago, she became more discerning, especially to veggies. Mixing some cheese with veggies didn't do the trick anymore.
So now what I do is, I deconstruct the food. The whole family still share the same food, but munchkin will get a deconstructed plate. Here I made salmon tacos with roasted tomatoes, micro cilantro, avocado, and radishes. Munchkin got the same meal but all separated on her cute Silicone Grip Dish, so she can choose what she wants to eat. This way I can avoid her refusing the entire meal (which happened a few times) and give her a chance to explore new food. But what if she only eats a few things off the plate? Well, as an insurance, I made a nutritious and yummy sauce. Munchkin loves sauces, so I was pretty sure that she'd enjoy the sauce, and she did. Even better, the sauce helped munchkin to try the salmon, and soon enough she was gobbling it down.
🌱 Here is the parsley sauce recipe:
2 cups fresh parsley (I used the curly type)
1 white portion of green onion (~ 1-inch diameter & 3-inch length)
2 cloves of garlic
juice of 2 lemons
1/2 tsp dried oregano
1/4 tsp ground cumin
1/2 tsp salt
1 tbsp honey
1/4 cup olive oil
1/2 cup mayonnaise
👉🏻 In a mixer, blend parsley, green onion, garlic, lemon juice, oregano, cumin, salt, and honey until the mixture turns smooth.
👉🏻 Add olive oil and mayo to the mixture and pulse to combine. (If you over process olive oil, it will turn bitter.)
For more family and toddler food ideas check out HeeJee on her own blog, or find her inspiring dishes and photos on Instagram @white.blank.space. Thanks for tuning in to Adventurous Eaters! 
Munchkin's Ensemble: