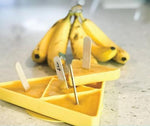 Last month, the Bumkins team came together for a breakfast meeting at our Phoenix headquarters. Ali, our social media guru and bakeress, brought in gluten-free banana bread that was the perfect balance of sweet and hearty. It was a dream dish! 
While the bread was an all-around crowd pleaser, what truly captivated us was that she baked it in our Grip Dish shaped like the Triforce from "The Legend of Zelda." Able to withstand high and low temperatures (from -40°F to 375°F) and go easily from the freezer to the microwave or oven, we knew this Silicone Grip Dish was versatile. But this experiment got us all thinking about the many ways it could be used... so we made a list:
1. Feeding and Weaning 
Designed as a tool for little ones learning to self-feed, or for more experienced eaters learning to use utensils, the dish has a strong suction base to keep it in place. Perfectly sized for toddler portions, the large sections each hold approximately 3.5oz, and the center section holds approximately 1.5oz. Plus, parents love that the dish is made of food grade silicone that is durable, stain resistant, doesn't harbor bacteria, and is easy to clean.
2. Baking
The decadent banana bread we feasted on was just the beginning! We also tried making a flax bread and made individual portions. (Due to the high fiber content in this particular recipe, we recommend it for older kids and adults.) Try baking your favorite recipe in the dish and show us how it turned out!
 3. Sensory Play
Activities that can engage a young child's senses, also known as sensory play, are fun ways to encourage development. The internet is filled with amazing examples of sensory play to explore with your kids. You can also find some great activities on the Bumkins blog. We used the Triforce Grip Dish for a quick and easy way to finger paint with our friends Phinn and Sam. We sat the cuties in toddler table seats, generously filled each slot with a different color paint, and let them lead the way.
4. Ice
Summer is here and it's off to a warm start! Keep cool and learn something new by visiting
Pinterest
for some fun science experiments involving ice. Preschoolers and older kids can learn about melting and freezing using these fun-shaped ice cubes.
5. Popsicles
Now that summer's here, we'll make any excuse to have cold dessert and we love it even more if it's simple and healthy. The Triforce Grip Dish is a great way to make individual popsicles for you and the fam. All you'll need is a blender and a few more ingredients to create some cool treats.
Ingredients:
1 cup of frozen fruit of your choice
1/4 cup of another fruit (frozen or not)
1 banana
1/4 cup of water
A dash of vanilla
A pinch of salt
Optional sweetener like date syrup, honey, or maple syrup
Instructions:
Puree the fruit (and sweetener, if added) in a blender until it is a creamy consistency
Pour the pureed contents into each of the four slots of the Triforce Grip Dish
Place in freezer for about 30 minutes, then add a popsicle stick to each section
Continue freezing until completely solid (about two hours)
Seasonal fruit recommendations: mango, watermelon, pineapple, or strawberries
Here are some other fun food ideas: 
gelatin or chocolate molds
cookies
scones
brownies
cheesecake
quiches
The Triforce Grip Dish is also excellent for sorting objects, which is a foundational math skill for preschoolers!
Still curious about the banana bread Ali made? 
What are some other ways you can use the dish? Comment your ideas below!