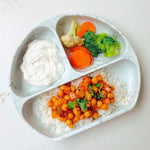 This authentic Chana Masala recipe is brimming with flavor and vibrancy. It comes together so quickly, and it's rich in protein and iron! However, you can omit this and just add an extra squeeze of lemon juice! 
Prep time:
5 mins
Cook time:
20 minutes 
Serves:
2 adults & 2 babies/toddlers 
What do you need? 
2 tbsp ghee (or use avocado oil for vegan/dairy-free alternative) 

1/2 tsp cumin seeds

1 white onion, finely chopped

1 heaped tsp minced garlic 

1 heaped tsp minced ginger

1 tsp ground coriander 

1/2 tsp ground cumin 

1 tsp paprika 

1/2 tsp turmeric 

Salt to taste (

omit for babies & toddlers

) 

1 large tomato, finely chopped or 4 tbsp passata 

1 tin chickpeas, rinsed and drained 

1 cup water 

1/2 tsp garam masala 

1/2 tsp mango powder (optional)

1 tbsp lemon juice 

A handful of coriander, finely chopped 
Then...
Heat the ghee or oil in a large pan over medium-high heat. Once hot, add the cumin seeds and onion, sautéing for a few minutes. 
Then add the garlic, ginger, coriander, turmeric, paprika, and ground cumin—Cook for about a minute. 
Next, add the chopped tomatoes and stir for a couple of minutes. 
Add the chickpeas and water, mixing well.
Turn up the heat to high and bring it to a boil, then reduce the heat to medium, pop on the lid, and cook for about 10 minutes until the chickpeas are tender. 
Add the garam masala, mango powder (if using), and lemon juice. Give it a good stir and serve! 
Pro Tip: You can use a potato masher to slightly mash down the chickpeas before serving for babies and young toddlers. 

This can be stored in the fridge in an airtight container for three days or frozen for up to 3 months. 
Love trying traditional dishes? Check out this roundup of recipes from our partners around the world!