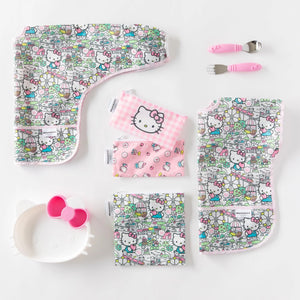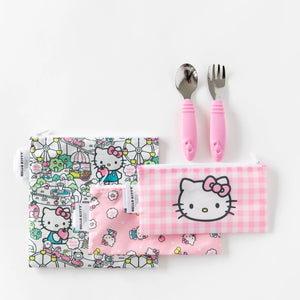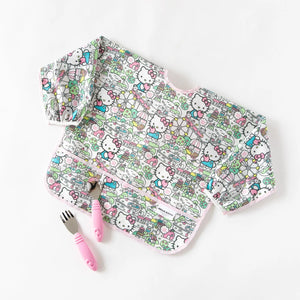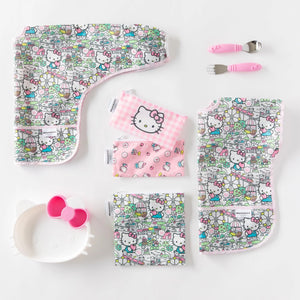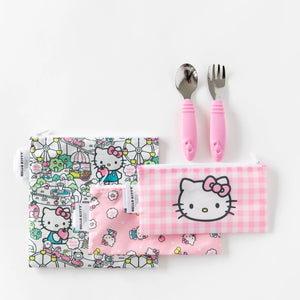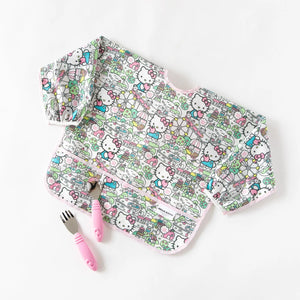 On Sale
Little Toddlers Gift Bundle, Hello Kitty®
Mealtime will be adorable with this set of products featuring Hello Kitty. Includes a Sleeved Bib, a Junior Bib, a Silicone Grip Dish: Hello Kitty®, a Spoon + Fork set, and a set of three Snack Bags. The Sleeved Bib is great for messy toddlers, who can grow into the Junior Bib as they need less coverage. They'll love meals served in a Silicone Grip Dish shaped like Hello Kitty's face and a Spoon + Fork set with matching bows on the handles. 
 What's Included:
Sleeved Bib
Junior Bib
Hello Kitty® Spoon + Fork Set
Hello Kitty® Silicone Grip Dish
Snack Bag 3-Pack
Branded Hello Kitty® box, tissue paper, and sticker. 
Product Dimensions:
Sleeved Bib measures approximately 14" across the chest, 13" from neck down, and 32" across cuff to cuff

Junior Bib measures approximately 15" across, 14" from neck down, and 16" sleeve to sleeve

Spoon + Fork measure approximately 5.5" long x 1.25" wide

Silicone Grip Dish measures approximately 8.5" across x 6.5" tall x 1.4" deep

Large Snack Bag measures approximately 7"x 7"; Small Snack Bags measure approximately 3.5"x 7"
Shop more Hello Kitty®.
Our gift sets are only available to the United States and its territories, and Canada.